There're many ways and reasons to start a fundraising campaign, but why do it with us? Below are 7 reasons why you should supercharge your fundraising campaigns with us.
#1: We are the leading changemaker platform in Malaysia
With over 14,000 registered users, we are a trusted platform that boasts not only crowdfunding features such as Campaigns, but also comprise of other social impact features such as Missions (volunteering opportunities) & Match (resource matching).
#2: Transparency & accountability
We take pride in being clear, precise and transparent. Sedunia Campaigns allows both donor and fundraiser to automatically track donations of both on and offline with a public list displayed at all times. Additionally, fundraisers are encouraged to update all donors of the progress with an instantaneous update feature!

#3: Flexibility for organisers
We offer flexibility for the fundraiser as we understand that situations can differ. You will have the power to edit your campaign story (such as the targeted amount, completion date & campaign details) even after the campaign goes live! On top of that, if funds are needed urgently, the Sedunia team could consider an early disbursement request to help you meet your needs! (with a small service fee of RM10).
#4: Ease of donation 
Making a donation is easier than before! While we recommend that all donors should create a Sedunia account beforehand, donors now can make a donation without creating an account. Furthermore, donors can even choose to be anonymous in the process for privacy matters with multiple payment methods commonly accepted. Also, we accept foreign credit cards via non-Malaysia cards! (Visa, Mastercard, Unionpay that has 3D Secure feature). We also boast multiple payment methods ranging from Visa/Mastercards (Credit/Debit), online banking, e-wallets & physical payment too! (All PCI-DSS Compliant Payment Gateway). A detailed list of payment options available on Sedunia can be found here.
#5: Bringing out the fun in fundraising!
Boost your fundraising chances by rallying fellow friends & family with sub-campaigns! This could be the key difference as you are able to add multiple dimensions to your fundraising goals with sub-campaigns offering an extended outreach. After all, all proceeds will be channeled back to the main campaign. You could also plot in rewards to gamify & incentivise potential donors!

#6: Affordable fee & quick turnaround!
Time is imminent! We understand that social changemakers want to maximise both their resources and time. We are committed to making our transaction fee as affordable as possible with an all time low of 2% payment gateway fee and 3% platform service fee. This also means that the team would take only 1-3 working days to review your campaign while disbursement of funds will be completed in 10-14 working days upon the campaign completion date.
#7: Built by & for social changemakers, let Sedunia take care of you!
All campaigns are carefully vetted by Sedunia to ensure quality content is delivered to respective communities as this platform is built & designed by fellow social changemakers. The Sedunia team promises to support your cause with step-by-step tutorials & comprehensive onboarding process to run a successful campaign.
Our social partners love us! Hear it from our social partners & recent campaigners!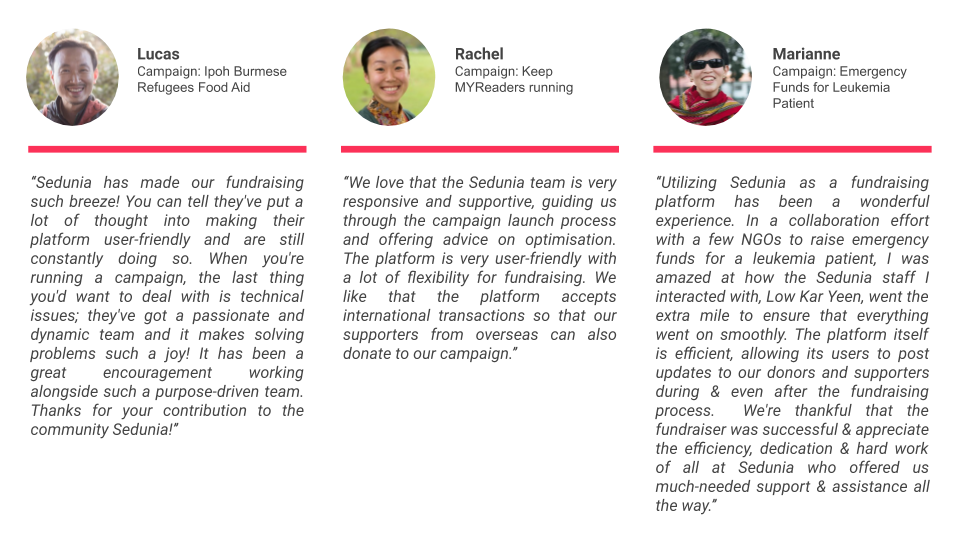 Start today! Let us embark on our fundraising journey with Sedunia Campaigns. Head over to our tutorial page on how you can create your very own campaign!

Sedunia, impact made easy
#TogetherWeAreEpic