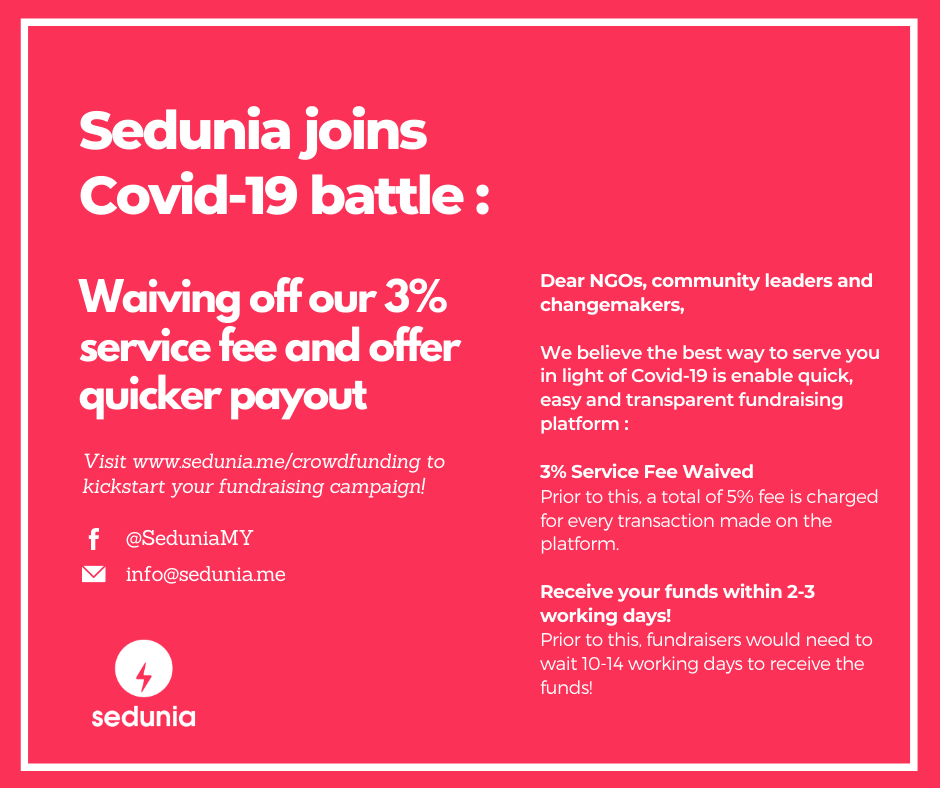 Sedunia is aware that a number of groups including NGOs and community leaders are severely in need of funds to continue supporting vulnerable groups affected by this outbreak.
In order to provide better access to funds, we will :
Waive our 3% service fee (the 2% payment gateway fee remains)



Reduce our payout period from 1-2 weeks to 2-3 days.


We hope this will ease the burden of those still on the ground needing crucial help:
Frontliners who are running short on resources, tools, or could do with some encouragement.
NGOs that are continuing to provide critical support to marginalised groups (refugees, orphans, old folks and disabled etc.) but are experiencing a disruption in supply and/or funds for carrying out their work.
Marginalised communities whose limited access to income is further impeded by the virus.
There are only three simple steps to kickstart your fundraising campaign on Sedunia :

Sign up for a Profile, create a Group Page at www.sedunia.me/signup


Start a Campaign at www.sedunia.me/crowdfunding



2.1 Enter campaign details



2.2 Enter promo code "FIGHTCOVID19"



2.3 The promo code will enable your donors to donate without a 3% service fee


Submit Your Campaign for Review!


—
Go to www.sedunia.me/crowdfunding to learn more and to kickstart your fundraising campaign now!